This article provides a walkthrough of the steps to take when requesting a correction or change to an existing form. If you are looking to submit a new form, please follow the New Form Process.
If you need an update to an existing form, you can submit these requests by going to https://motilitysoftware.com/forms-request/
Form Change Process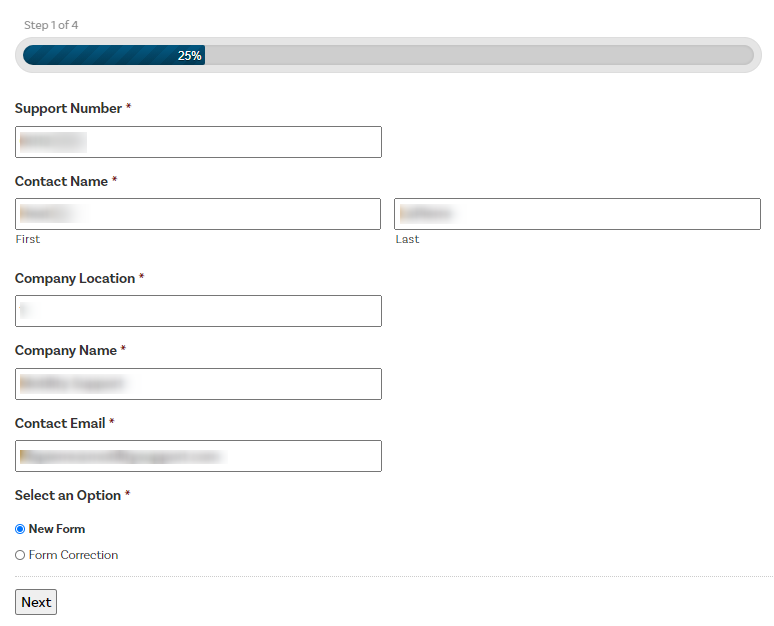 Enter all information on the first page. This is critical so that your form or correction is processed for the correct business and location.
If this form does not exist in any previous iteration for your business, please follow the New Form Process. If this form has a previous version, revision or iteration, select the form correction option.
Select the Next button to move to the following screen. (This will skip step 2, which is for new form submissions.)

Enter the full form name.
If the form will expire on a future date, enter that date into the expiration field. Otherwise, leave this field blank.
Type in an explanation of the issue on the form. For example, you could include the field name, error in calculation, or area of concern.
Type in an explanation of what is expected in the area or field of concern.
Upload a screenshot or scanned image of the form. We recommend highlighting the area of concern, as long as it does not affect the readability of the form.
Select the Next button to continue.
Complete the Captcha.
Select the Submit button. This creates a case for your form with our forms department. Please retain a copy of the email confirmation that you receive, as you will want to reference the case number if you contact us with further questions about the form.