MotilityAnywhere allows you to split one invoice into multiple invoices. For example, if the original invoice contains both Factory Warranty jobs and Customer Pay / Retail jobs, you may want to have them on different invoices for easier warranty submission. The process to split invoices is the same for parts invoices as for service invoices.
---
Before Splitting an Invoice
Check to see if there is a deposit on the Invoice. If so, the deposit will stay on the original invoice.
Check to see if there is a deductible amount. If so, the deductible will stay on the original Invoice.
---
Split an Invoice
Open the Parts & Service module.
Open the Service Invoicing list from the menu on the left side of the screen.
Double-click over the invoice within the list to open it.
Unlock the invoice by clicking the lock icon in the lower left or the Edit button in the lower right.
Click the Split button at the bottom of the repair order. This will open the Split Service Invoice screen.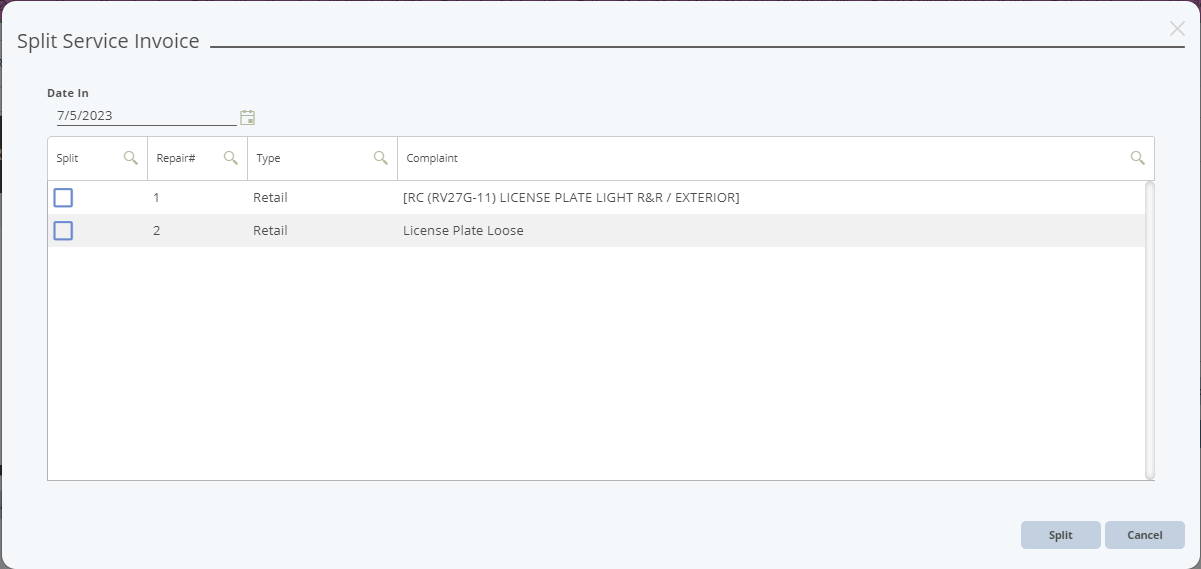 Select the boxes next to the job(s) you want to move to a new invoice
Click the Split button in the lower right. This will create a new invoice.
---
After a Split
The original invoice will end with an A, and the new invoice will end with a B.
On the original invoice, (the one now ending in an A), the lines that were "split" are still visible.
Each repair that has been moved will show in the original invoice, show that they have been moved to the new invoice, and provide the new invoice number.
IMPORTANT:
DO NOT DELETE THE UPDATED JOB LINES ON THE ORIGINAL (A) INVOICE.