The cash drawers are used within your dealership to receive deposits and money from customers. Once the drawers have been set up, the open / close cash drawer option allows you to set up the opening and closing cash drawer amounts to ensure that transactions were rung correctly.
---
Open a Cash Drawer
Open the Parts & Service module.
Select (502) Open/Close Cash Drawer from the menu tree to the left. This will open a screen that allows the cash drawer to be opened.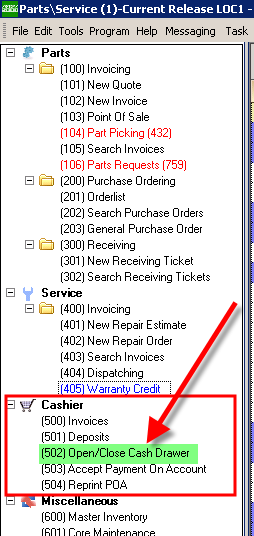 If the user has the appropriate security permissions, they can enter the cash drawer number they wish to open. Most users will be assigned a cash drawer number that will appear automatically in the "Cash Drawer" field.
Note: Cash drawers are station specific. If the dealership has multiple stations assigned to the same cash drawer, each user will have to follow the same procedure at their individual station to attach themselves to the main cash drawer.
Set Opening Balance
The Opening Balance is pre-entered by default. The user may override this with the correct amount if necessary.
Click OK to open the drawer and be able to take payments.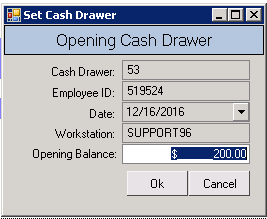 Note - It is important to remember that when opening a cash drawer, it opens the drawer on that LOCAL machine. If the user logs off and another user logs on to that local machine, this will cash out the cash drawer that the first user had opened.
If, after opening a cash drawer on a local machine, the user logs off and moves to a new computer, they will need to re-open that cash drawer again on the new machine. The system simply attaches that newly opened drawer to the original cash drawer. When the cash drawer at any machine is closed, it will close that cash drawer for all of them.
---
Close Cash Drawer
Once you are ready to close your cash Drawer for the day, the first thing that you should do is run the "Cashier EOD report".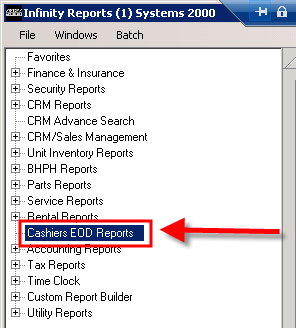 Open the Reporting module.
Select the Cashiers EOD Reports option. This will update the right side of the window to show the query screen.
On the query screen:
Choose which reports you would like to run. The most common ones are: Cash Drawer Summary Report, Cash Drawer Transaction Report and Cash Drawer Transaction Report Detail.
Select your cash drawer.
Select the cash out date.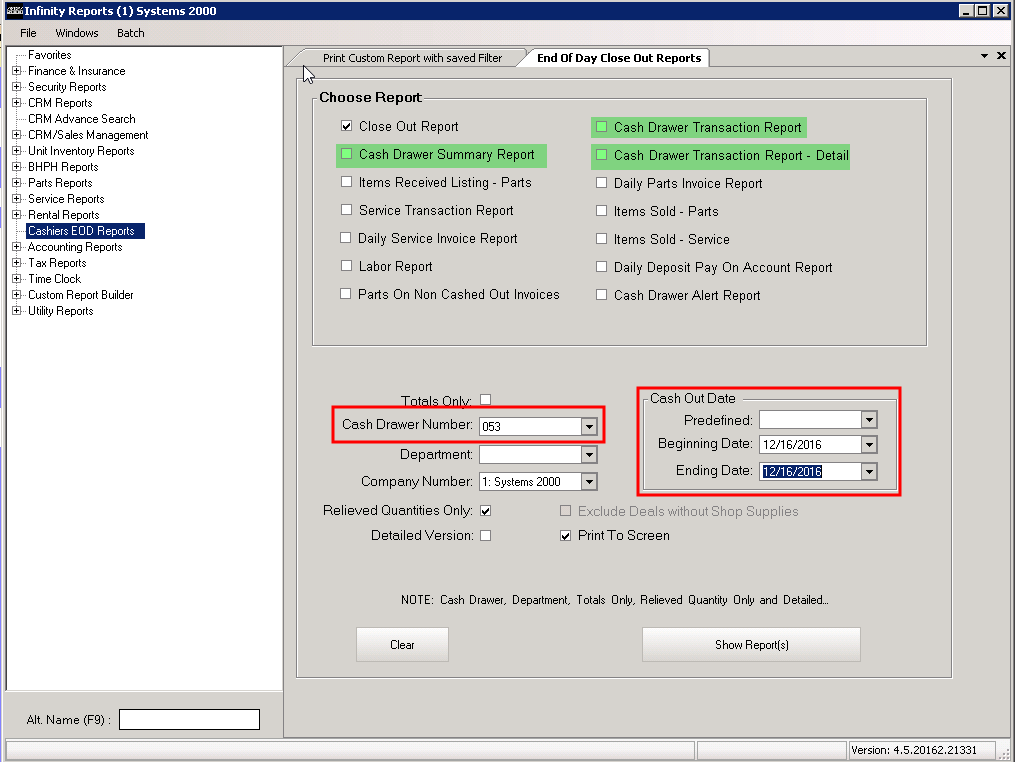 Review your totals to ensure they are accurate. Your dealership may want you to print one or more of these reports.
Open the Parts & Service module.
Select (502) Open/Close Cash Drawer from the menu tree to the left. This will open the closing cash drawer screen.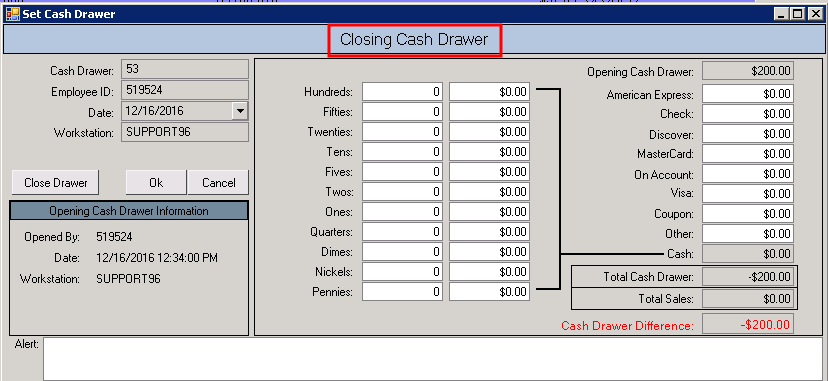 Enter the breakdown of the total money in your cash drawer (including the amount you began with).
Verify the cash drawer difference in the lower right is zero after you have counted all your cash, checks and credit card receipts for the day.
Select the Close cash drawer button.