The Infinity program allows you several different ways to create a new parts invoice. These are:
(101) New Quote
Each option offers different functionality and reasons to use, but all of the screens look the same.
---
Creating a new parts quote does not allocate the parts on the invoice. This keeps the parts available for sale to other customers.
You may create quotes as precursor to creating a parts invoice. This can be helpful when the customer wants to know accurate pricing.
Convert a Parts Quote to an Invoice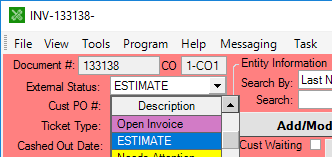 In the upper left of the quote, change the status to your dealership's invoice status.