To send emails from the Infinity software, the employee's email address needs to be entered in Employee Information. In order to receive emails into the Infinity software, Infinity Reminders needs to be set up. Below are steps to get to and set up Infinity Reminders.
Troubleshooting Test Account Errors
---
Open Infinity Reminders
In the lower right part of your monitor window is the system tray. A black and teal icon will appear close to where the time is located. (If you do not see the icon, open the CRM module first. The reminders program opens when CRM is open).
Right-click on the icon to open a menu.

Select Open Reminder Wizard from the menu.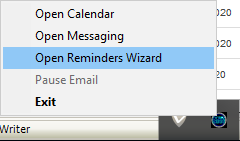 Enter your credentials if prompted for the username and password. The Reminders Wizard window will then open.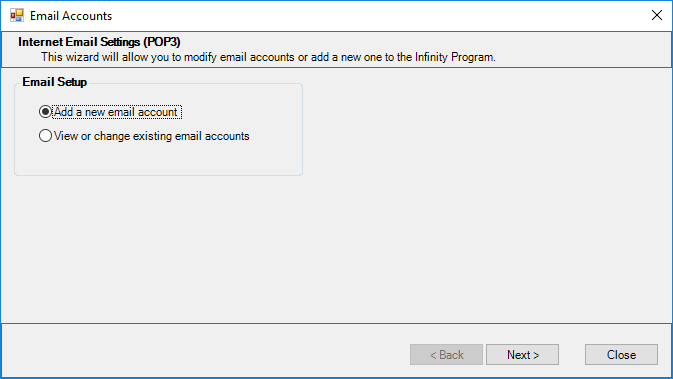 ---
Add A New Email Account
To add an account, choose the radio button labeled Add a New Email Account. To update an existing account, choose the radio button to View or Change Existing Email Accounts.
Click the Next button in the lower right. This will open a new window.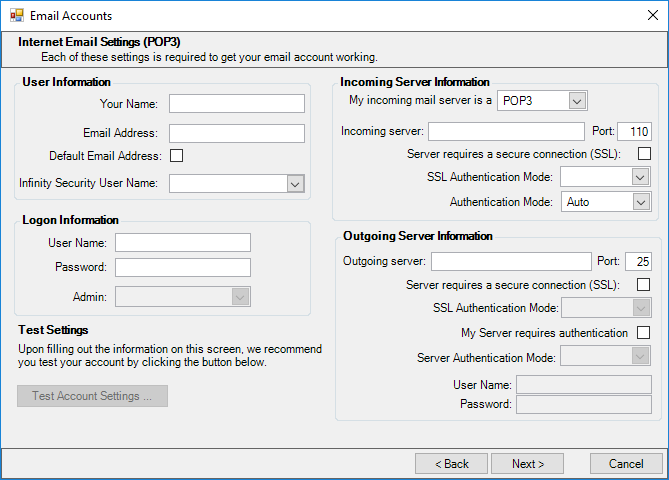 Enter in the appropriate server information. In order to receive emails into CRM, the incoming settings need to be filled in.
Click the Test Account Settings button in the lower left.
Note: This only tests the incoming server settings.


After confirming the test passes, click the Next button. This will move to a screen where you can choose delivery and server options.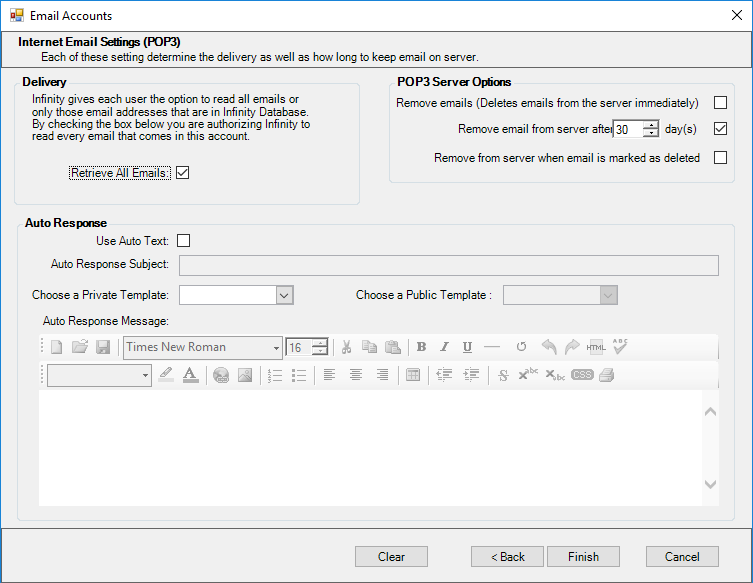 Click Finish.
---
Troubleshooting Account Test Errors
If You Are Using Gmail
If you use 2-Step-Verification and get an error when you test, you can try to use an App Password.
Go to your Google Account.
Select Security.
Under "Signing in to Google," select App Passwords. You may need to sign in. If you don't have this option, it might be because:

2-Step Verification is not set up for your account.
2-Step Verification is only set up for security keys.
Your account is through work, school, or other organization.
You turned on Advanced Protection.

At the bottom, choose Select app and choose the app you using Select device and choose the device you're using Generate.
Follow the instructions to enter the App Password. The App Password is the 16-character code in the yellow bar on your device.
Tap Done.
Tip: Most of the time, you'll only have to enter an App Password once per app or device, so don't worry about memorizing it.
If You Are Using Outlook
Verify that the email address entered into Infinity Reminders matches the email entered into the employee profile.
Inside Infinity
Verify that the SSL authentication mode selected for the incoming and outgoing email servers are accurate.
Ensure that the outgoing server authentication mode is correct.