If you need to clear out old estimates or invoices, Infinity has a tool to help.
IMPORTANT:
The void appointments and estimates tool is permanent and cannot be undone. Please verify that you have selected the correct options before continuing.
Open the Parts & Service module.
Select the Edit menu from the upper left of the screen.
Hover over Modify to expand the submenu.
Choose the Void Appointments/Estimates option. This will open a popup window.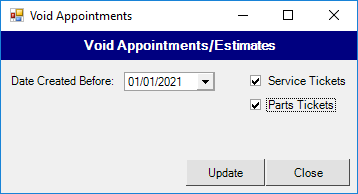 Enter a date into the Date Created Before field. Alternatively, you can use the dropdown to choose the date.
Select to affect parts invoice, service invoices, or both.
Click the Update button. You will receive a completion message when the process is finished.