The custom tabs option in MotilityAnywhere allows you to make a tab for the fields you want your staff to view and enter information into, set in your desired layout.
---
Create Custom Screen
Open any module.
Click over the icon of a person in the upper right of the screen.
Choose the Settings option from the menu. This will open a screen where you can apply settings at different levels.
Select the App Settings tab.
Click the CRM subtab on the left side of the screen.
Choose the Custom Screens option. This will expand the section.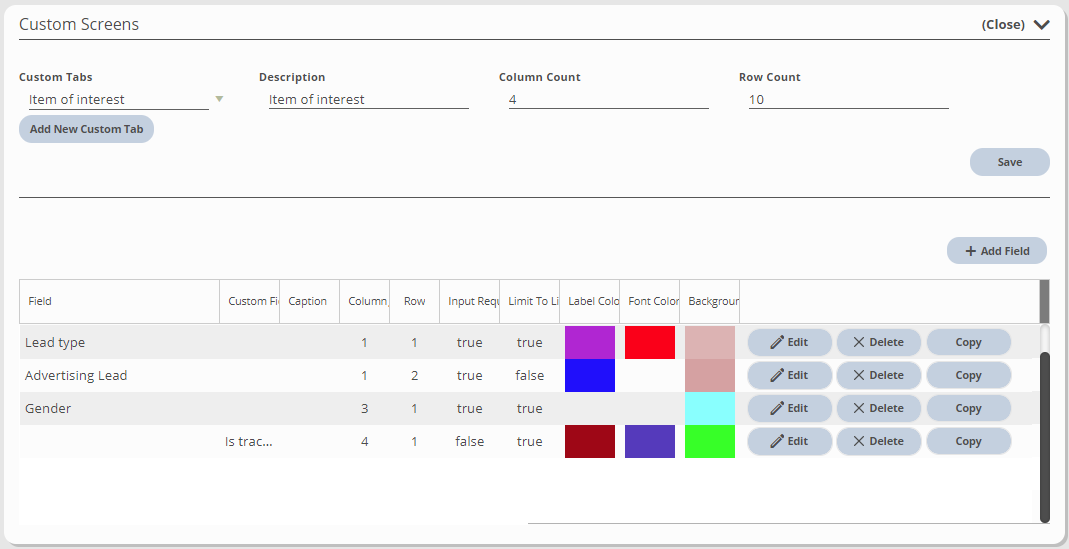 If you are editing an existing custom tab, select it from the custom tab dropdown. To create a new tab, click the Add New Custom Tab button in the upper left of the section.
Enter a description for the tab.
Set the number of columns and rows that you want your new tab to display. A good place to start is 3 or 4 columns and up to 10 rows.
Select the Add Field button to add a new, blank row to the table.
Choose the field you wish to display by clicking the arrow to expand the list of fields, then choosing the field you wish to use. Alternatively, you can select the arrow for the custom field column to choose from customizations set up for your dealership.
Enter the column and row where you want the field to show when viewing the tab.
If an entry will be required for this field, check the box in the Input Required column.
Optionally, you can set a label color, font color, and background color per field.
Select the Update button to save the row.
---
View Custom Screen
Custom tabs are visible in the CRM module's entity profiles.