You may have seen budget columns on the Daily Operating Report and Profit and Loss Budget Comparison reports. Budgets allow for a quick comparison to the target goal for each month. This document shows 3 different ways to add a budget.
Add a Budget Manually. This allows you to enter each number manually.
Copy Budget. Copies the budget from a previous year to the current year.
Create Budgets. Creates a new budget based on an estimate of projected seasonal sales using monthly or yearly percentages.
---
Open Budget List
Open the Accounting module.
Select the Edit menu in the upper left of the screen.
Choose the Add/Modify GL Accounts option.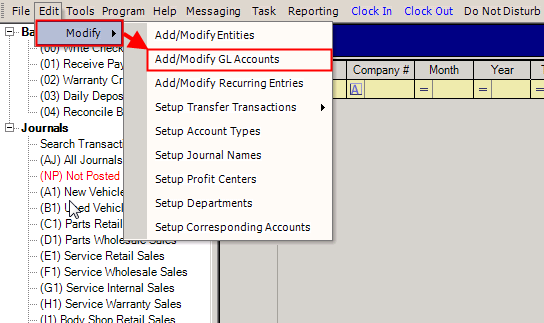 Click the Add/Modify Budgets button at the bottom of the GL accounts screen.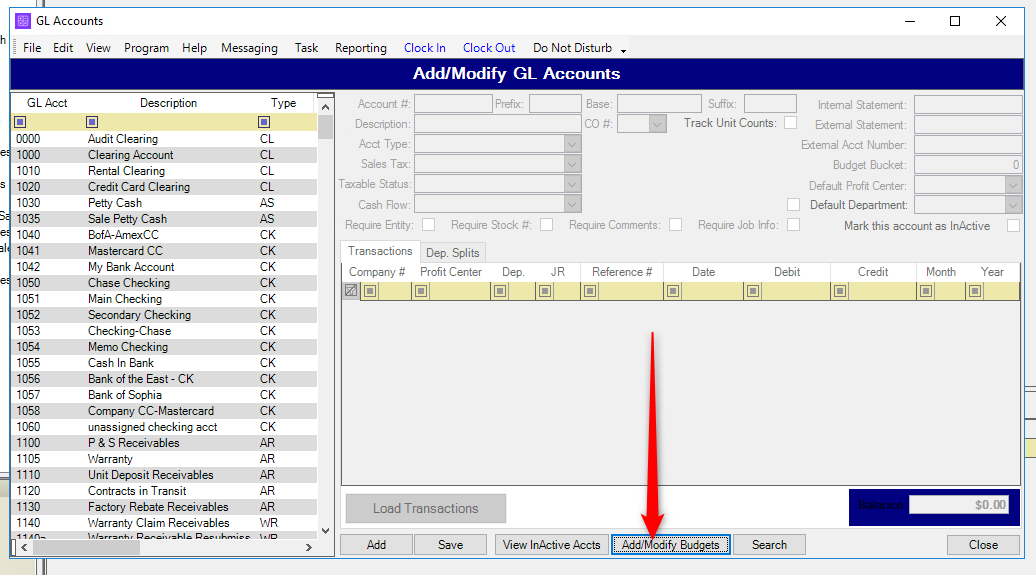 This screen shows all budgets that have been created for all years on one page. You can use the Yellow filter bar at the top to see monthly budgets for a particular Year, Description, Company, PC, Department, or Year.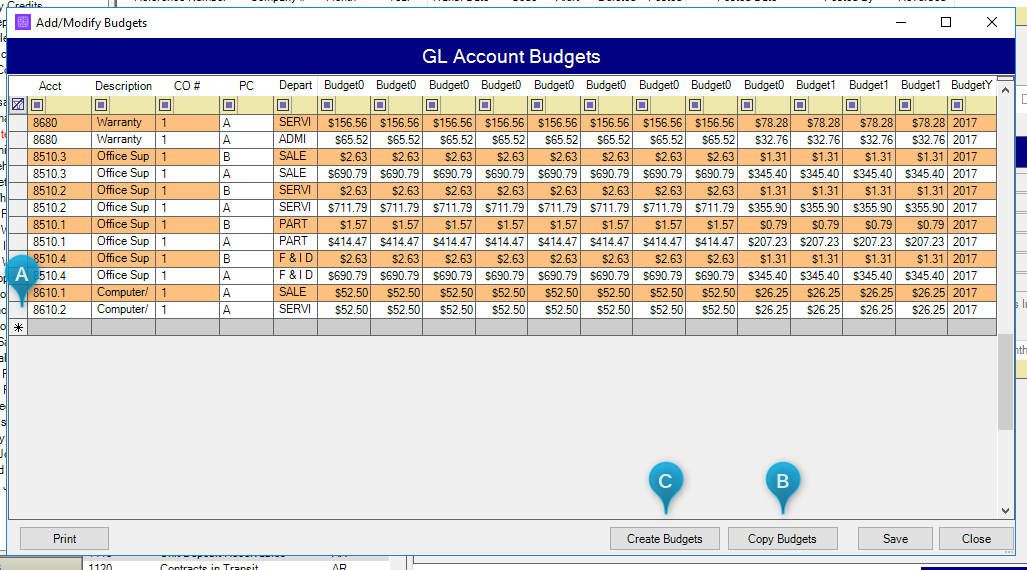 ---
Add a Budget Manually
Scroll to the bottom of the list of budgets and you will find a gray row with a * at the beginning. This is the new blank line where you can start typing in the GL Account, Description, Co #, PC, Department, each month's projected goal, and the year the budget will apply.
The columns for each month are labeled Budget01 for January, Budget02 for February, etc.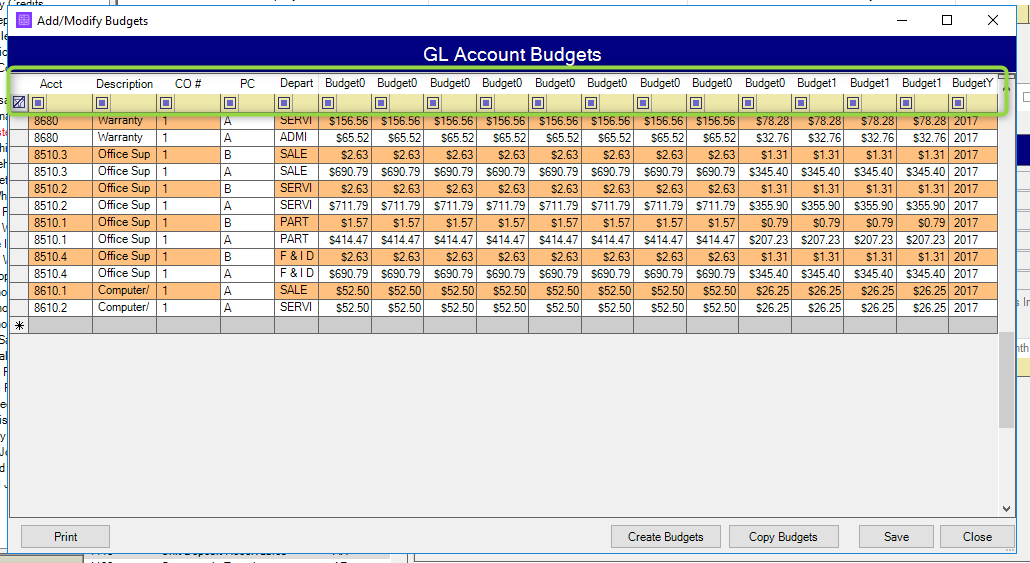 ---
Copy Budgets
Click the Copy Budgets button.
Enter the Past Year and New Year (Example: Past Year 2019, New Year: 2020).
Choose if you want to copy the Budget Figures or Actual Figures.
Budget Figures will be the budget listed for 2019 over to 2020. If there is no budget for 2019 there will be an error message.
Actual Figures will Copy the monthly balance in accounting for each GL in 2019 into a budget number for 2020. Once this is complete, you can go in and make adjustments using method A.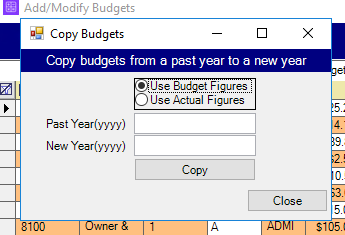 ---
Create Budgets
Click the Create Budgets Button. This will open a screen where you can select the information that you want your budget to be based on.
Based on Last Year - will mark up last year's year-to-date numbers based on the LYTD percentage you enter. For example, if you want 2020 year-end revenue to be 20% higher than 2019, you would enter 120% into LYTD Percentage.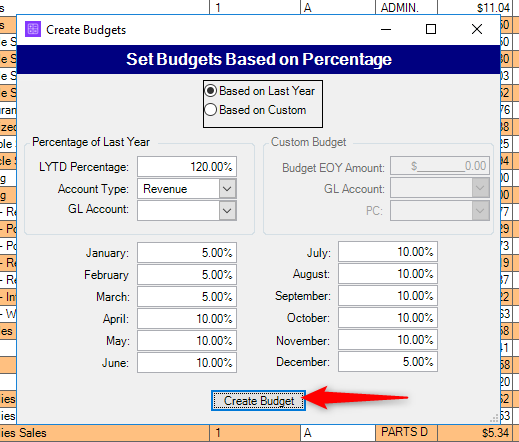 Choose an Account Type such as Revenue.
Optionally, you can choose a specific GL account to create a budget or leave Account Type and GL account blank to apply this budget to ALL GL accounts.
Enter percentages for each month of the year. These percentages must total 100%. The idea here is that you can take your 120% markup over last year and spread it out over next year based on low season or high season.

Example: As you can see, the year to date goal number has been distributed across the months according to the percentages defined above.
Based on Custom - Allows you to enter a specific EOY balance upon which to base the balance. This would be done for each GL account and profit center individually. The Monthly Percentages allow you to spread the EOY budget across all 12 months in accordance with the seasonal nature of the business.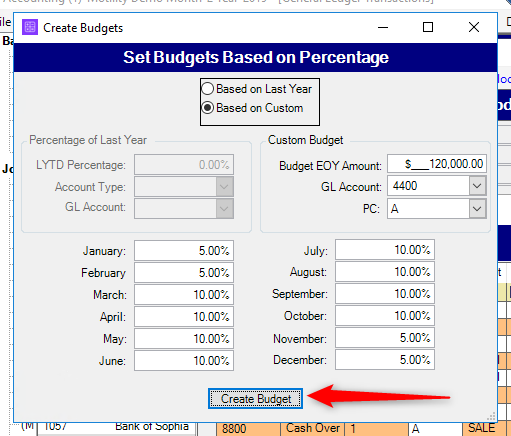 Example: As you can see, the 120,000 is spread across all months