The ability to write checks to vendors in batches speeds up the amount of time spent processing checks to multiple vendors. It also allows the AP clerk to print remittance reports for selected invoices to get approval from management prior to printing the batch.
Infinity has a built-in check writer that allows dealers to create and print checks, and also auto-draft transactions. The check writing system automatically tracks accounts payable, floorplan and floorplan interest balances.
Access Check Writer
Write Checks in Batches
Choose Which Entities to Pay
Print a Batch of Checks
---
Access Check Writer
To open the check writer, click on (00) Write Check/Drafts under the Banking section of the menu tree. The Check Detail window will open.
Write Checks in Batches
On the bottom row of buttons, click the Auto Check Writing button. In the bottom left, you can narrow down the results by Profit Center, entities, a GL Account Number, or Ending Due Date.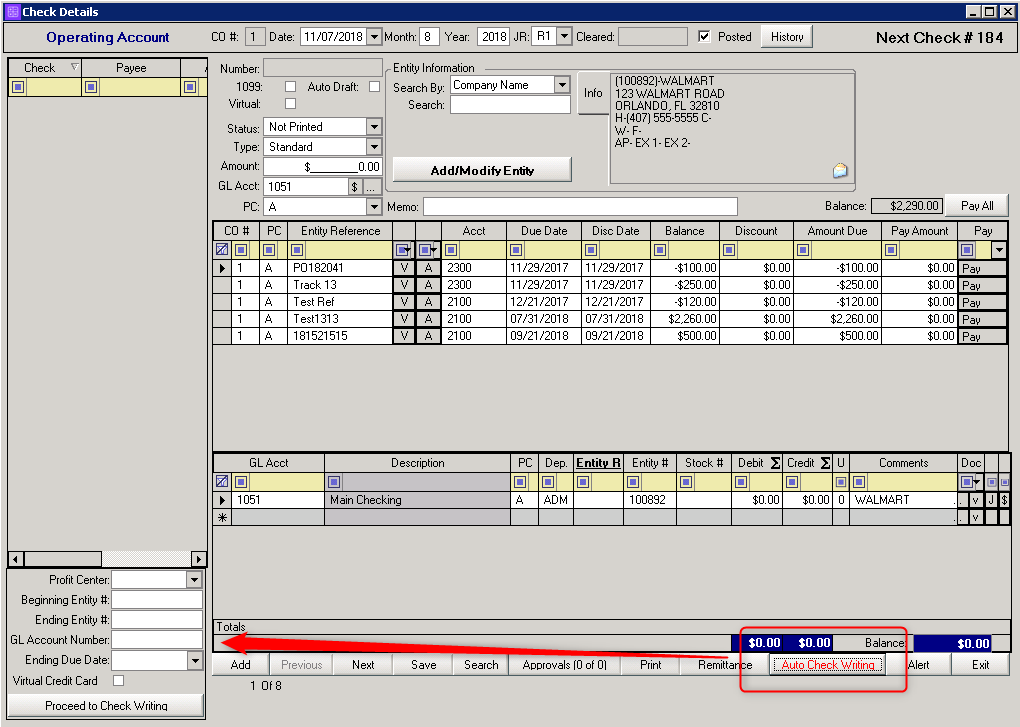 If you don't need to narrow down your results, simply click on the button with the fields empty.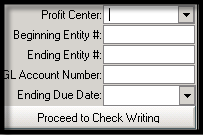 The "Creating Auto Checks" will run, to then display all the entities that have an AP balance that needs to
be paid. You will see the layout change on the left of the Check Writer. Then go through the entities on the list, and select the entities you want to pay.

Choose Which Entities to Pay
From the list on the left, click on the entities that you want to print checks for in this batch. Once you choose an entity, you will see the transactions you can pay. Then you can select to Pay All, or pick which invoices you are paying in this batch.
*You can pay more than one invoice to the same entity without paying all the invoices by choose multiple buttons. For each you select, you will see that payment appear in the bottom middle section.

*After each entity, remember to click the Save button.
Print a Batch of Checks
After you have gone through and selected the entities you are going to pay in this batch, click the button in the bottom left corner.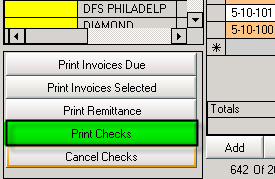 Only the checks you have selected will print in this batch.