The AR Auto Pay feature is used to bill AR balances that will receive periodic payments from customer cards (like a monthly charge).
Set up Customer Card on File for Auto Pay
---
Set up Customer Card on File for Auto Pay
Open the CRM module.
Search for the customer or add a new customer.
Select the AR Info tab on the entity profile.

Check the Auto Pay box.
Choose the Credit Card Terminal you wish the auto pay process to use for this entity.
Select either the Get Token (In Hand) or the Get Token (Manual) button.
Get Token (In Hand) should be selected if the card is present and can be tapped, swiped, or inserted.
Get Token (Manual) should be selected if the card is not present and will be manually entered.
Choosing either Get Token button will connect to the credit card device selected and prompt for card entry. Have the customer enter the card information.
Save the customer record.
---
Run Auto Pay Tool
Open the Accounting module.
Choose the AR Auto Pay option from the quick links menu on the left side of the screen. This will open a popup window.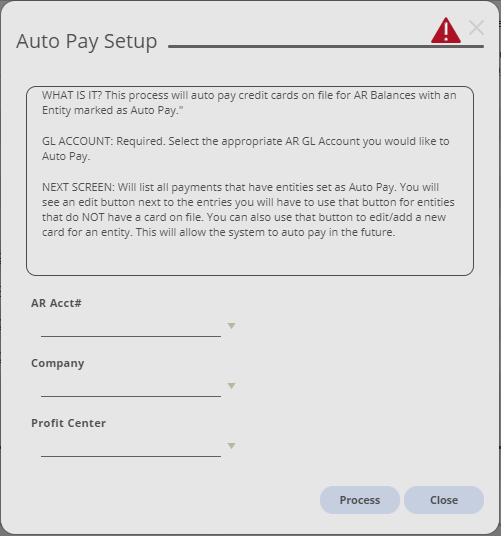 Choose the AR account for the payments.
Optionally, you may select the company you wish to process payments for.
Optionally, you may choose the profit center that you want
Click the Process button. This will open another popup window.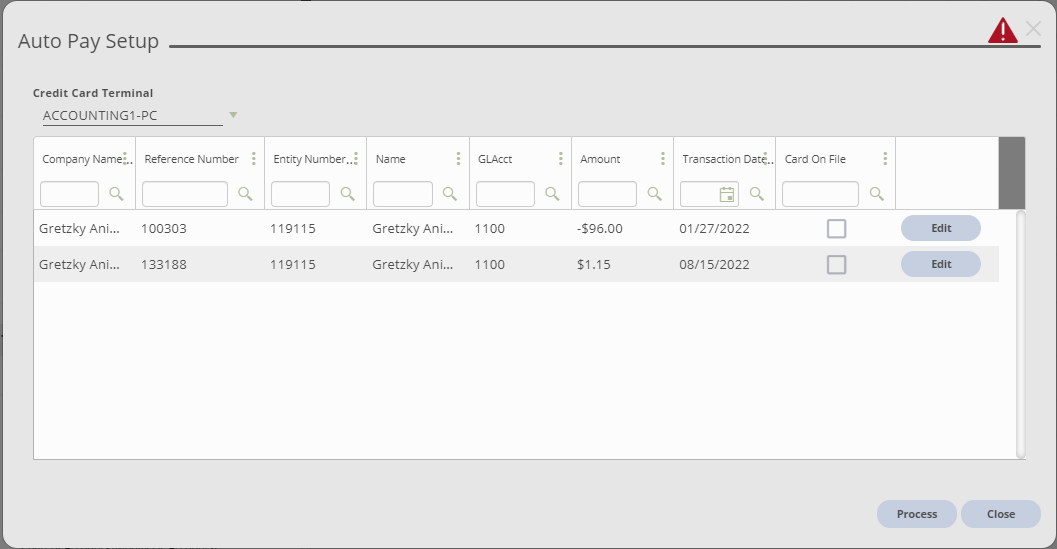 This window shows all the outstanding balances in the AR GL account # whose entities are marked as "Auto Pay" in the CRM. You will see the total Amount Due, the date of the Transactions, a Reference Number (allowing you to identify the invoice the balance is coming from), and whether or not the entity has a card on file.
Verify the correct credit card device is selected in the upper left. The payments will process through the selected device.
Click the Process button in the lower right of the window.