Units can be assigned a type. These vehicle types are used for reports and in the unit's profile.
---
Add Unit Type
Open the Unit Inventory module.
In the upper left, select the Edit menu.
Hover over Modify.
Select the Unit Details Pick List option.
In the dropdown selection box at the top, select "Veh Type"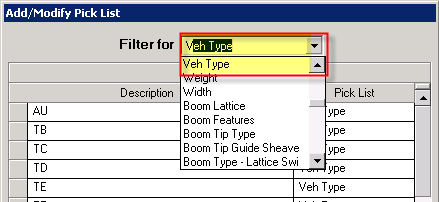 Click the "Add Item" button in the lower left of the window. This will add a new blank row.
Add the name of the new unit type.
Choose the "Apply" button to save.
Click the "Ok" button to close this window.