Unit locations are used to track where specific units are without affecting accounting transactions.
Change Locations on Unit Profile
---
Add Lot Locations
Open the Unit Inventory module.
Select Edit from the menu bar at the top of the screen.
Choose the Add / Modify Unit Locations option. This will open the lot location setup window.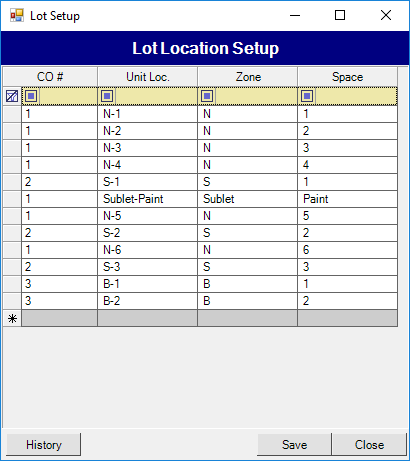 Click in the starred, blank gray line at the bottom of the list.
Enter the new unit location. When you enter a zone and space, this information populates to the unit location field.
If you need to add another location, click into the new, starred, blank gray row at the bottom of the list. When you have entered all of the locations, choose the save button in the lower right.
---
Change Locations on Unit Profile
Choosing the initial location on units can be entered if you are manually entering a unit, or added automatically when receiving a unit purchase order (UPO).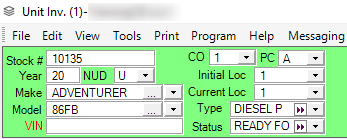 The Initial Location and the Current Location of the unit can be different if you have multiple locations. When the initial lot location is different than the current location, these fields are used to identify units that have been transferred to a different (current) site.
Updating the location fields will not update the accounting location of the unit. Changing the profit center (PC) will add transfer transactions for the original location and the transfer location.