Categories in CRM are used for your salespeople to classify customers. These categories can be viewed from the left side of the main CRM screen.
---
Add a Category
Open the CRM module.
Select Edit from the menu bar at the top of the screen.
Choose the option to Add/ Modify Categories. This will open the categories window.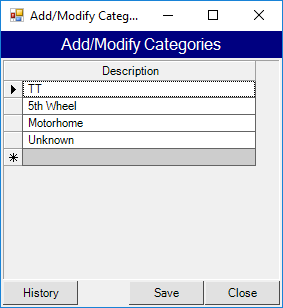 Click in the starred, blank gray line at the bottom of the list.
Enter the new category description.
If you need to add another category, select the save button. This will create a new, starred, blank gray row.
---
View Categories
Open the CRM module.
Choose the Categories view in the lower left corner of the screen. This will expand the categories section.
Click the Refresh button at the top of the section.