Most cellular phone companies allow you to send an email (addressed to the recipient's cellphone number and domain) that arrives to the cellphone as a text message. This option in the Infinity program allows you to enter new cellular providers and the domain to use when sending your messages.
Assign a Cell Provider to an Entity
---
Add a Cellular Provider
Open the CRM module.
Select Edit from the menu bar at the top of the screen.
Choose the Cell Providers option. This will open the cell providers window.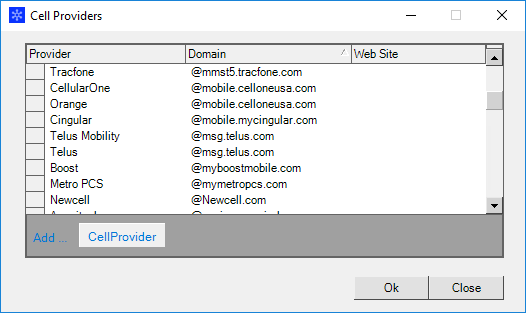 Click the Add Cell Provider button in the lower left of the window. This will add a new blank row.
Add the name of the new provider.
Enter the appropriate domain. You may need to get this information from the provider.
Click OK to save.
Click the Close button to exit the list.
---
Assign a Cell Provider to an Entity
Open the CRM module.
Search for the entity you wish to view.
Open the entity profile.
Select the Lead Info tab.
Choose the applicable cellular provider for the entity.