Unit Inventory is where non-parts inventory is viewed and managed. Examples of units include cars, trucks, trailers, boats, heavy equipment, motorcycles, golf carts, and much more. Employees who use this module include owners, general managers, lot managers, accounting staff, website administrators, sales managers, and salespeople. Unit Inventory module contains default settings and pick lists relating to pricing, type, status, accessories, and GL accounts. You can also find tools here for PAC aging, suggested reorder, Unit Purchase Orders, images, and displaying units to the internet.
User Interface
The top section has basic unit information, and the tab area contains more detailed information. At the bottom are the buttons. We will take a closer look at the Search, Save, and Delete buttons.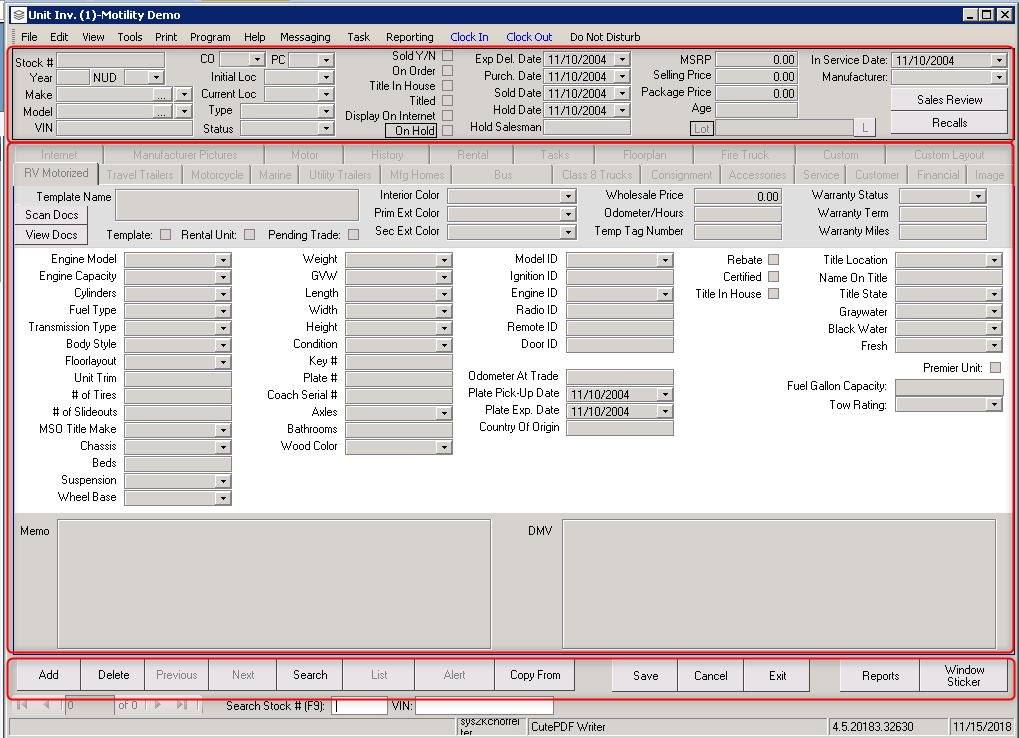 Tools
Unit Inventory contains various tools that may be used for various functions. This section will describe Searching, Deleting, Copying, Muti-Unit Copy, Display Units On Internet. For information on
Search Button
Search has a variety of fields to choose from. The most common search fields for viewing active inventory would be Sold = No, On Hold = No, Status = Ready For Sale. Click on List.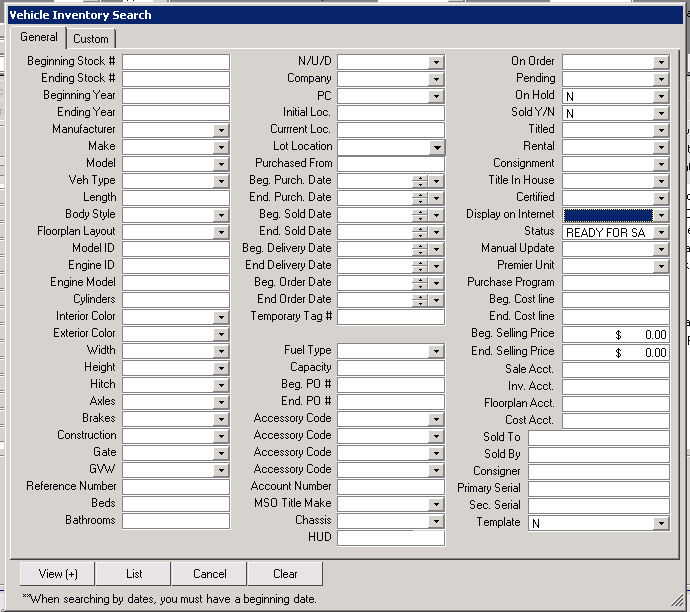 The search results list can be customized for each user. Click Customize Layout.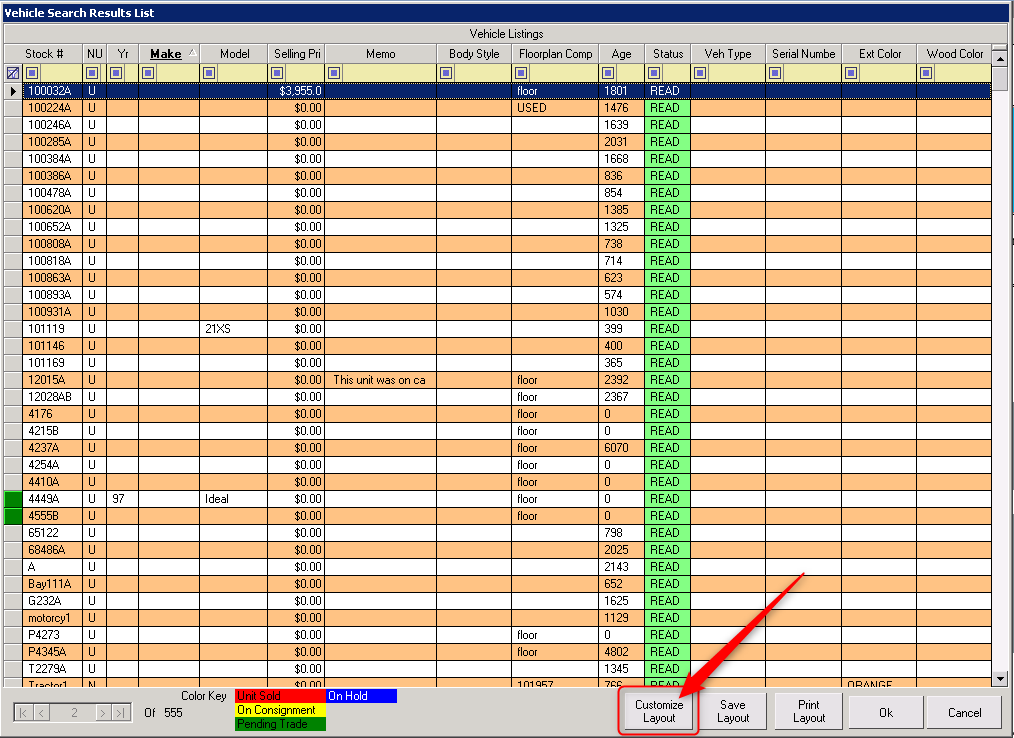 Field Chooser allows for additional columns to be added to the list.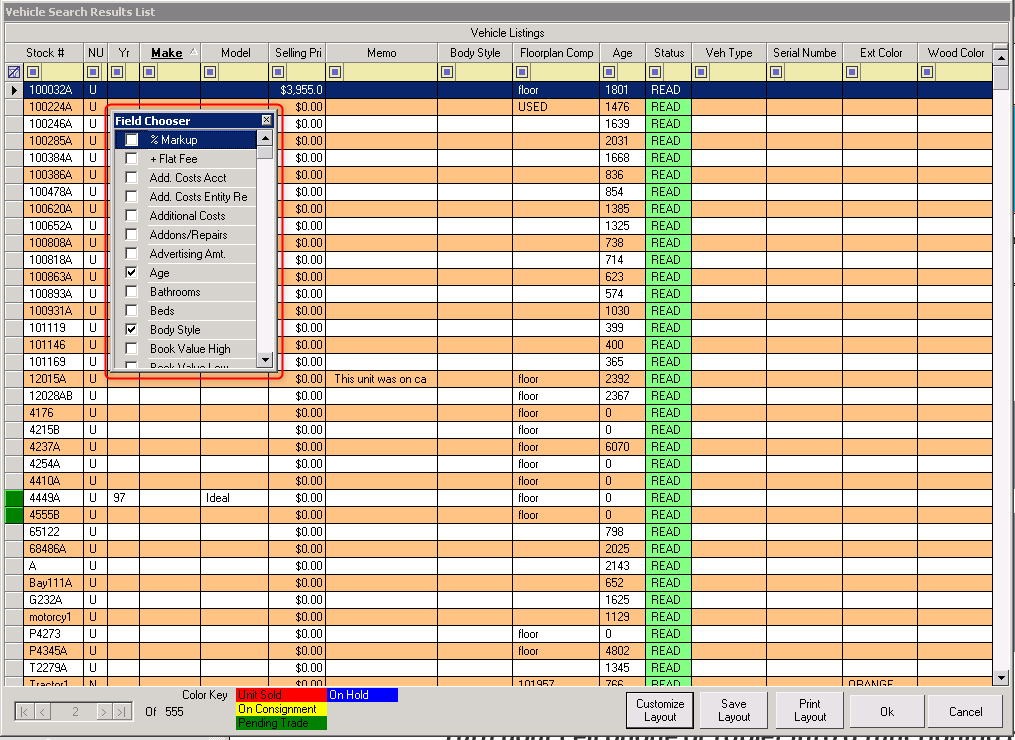 Note: It is a good idea for each user to customize their own search results list.
Make sure to click the "Save Layout" button after you make changes.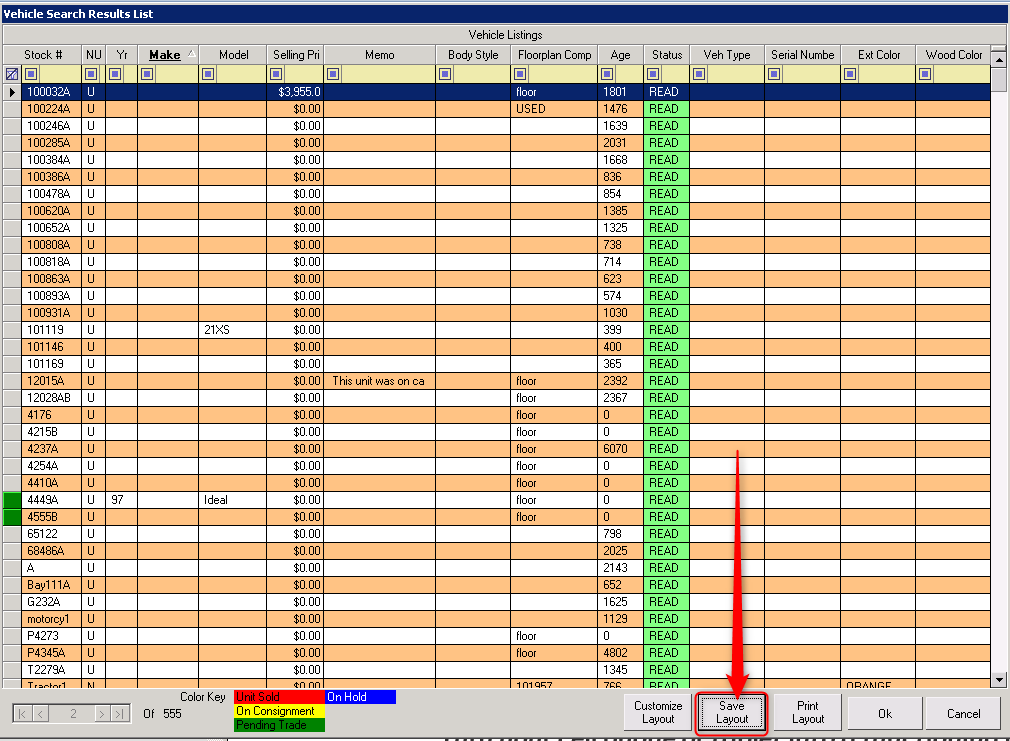 Delete Button
You can only delete a unit that has no accounting transactions. If you try to delete a unit that has had transactions, you will see this message:


Copy From
Instead of starting with a blank unit when adding a new unit, you can copy an existing stock number. This saves time by copying details from the tabs of the existing unit over to the new unit. Click Copy From. Or click File > Copy From… Ctrl+Shift+Y.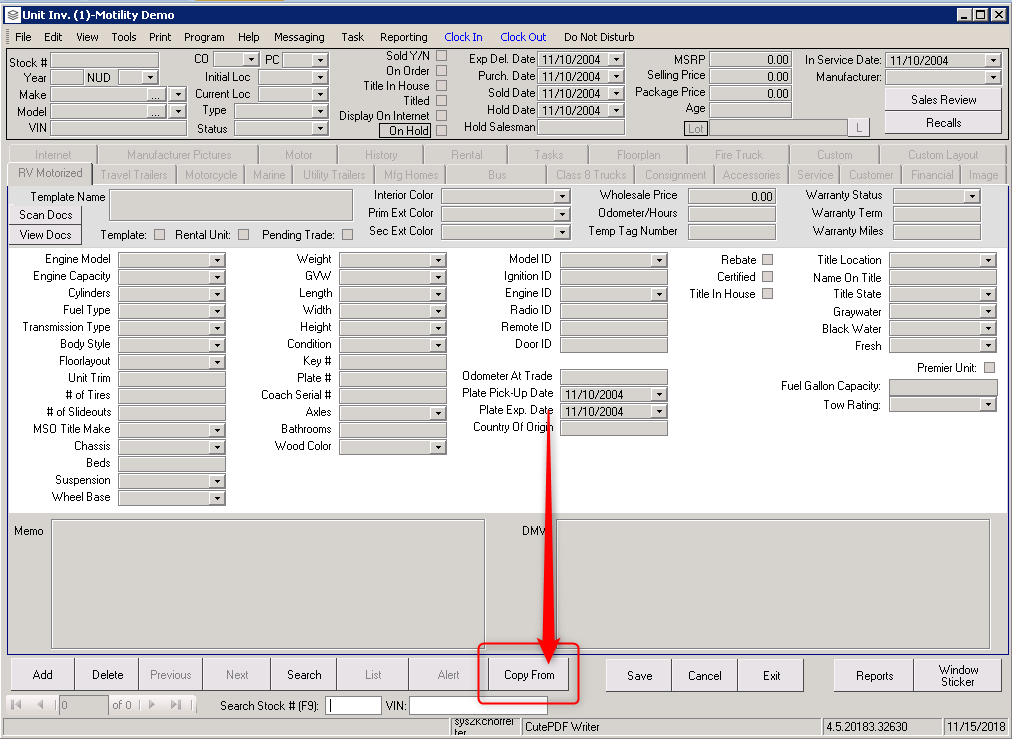 Type the Stock number you would like to copy from.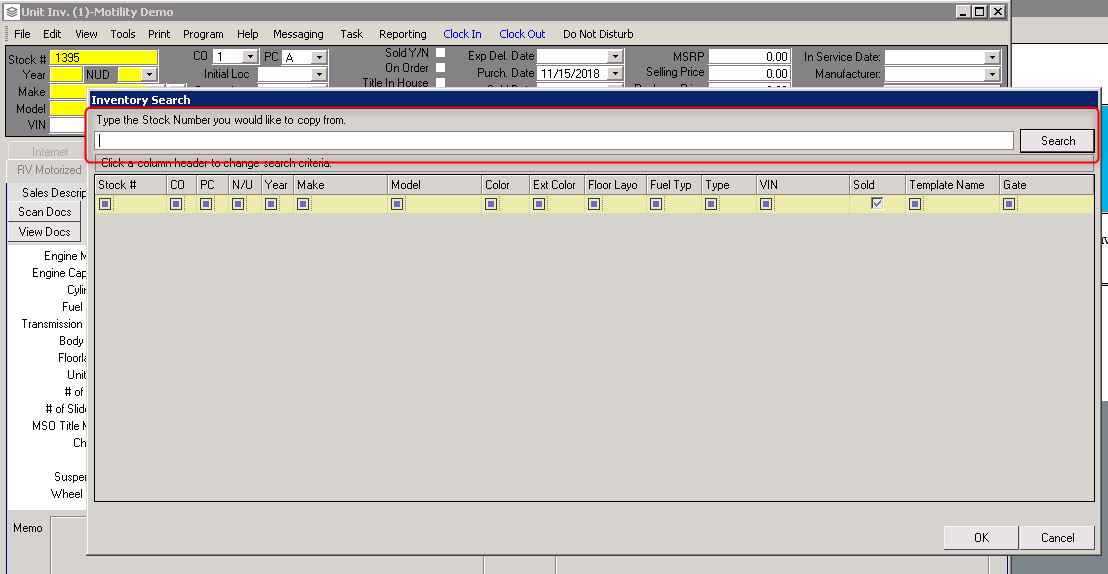 The new unit will auto-fill with unit details from the old unit.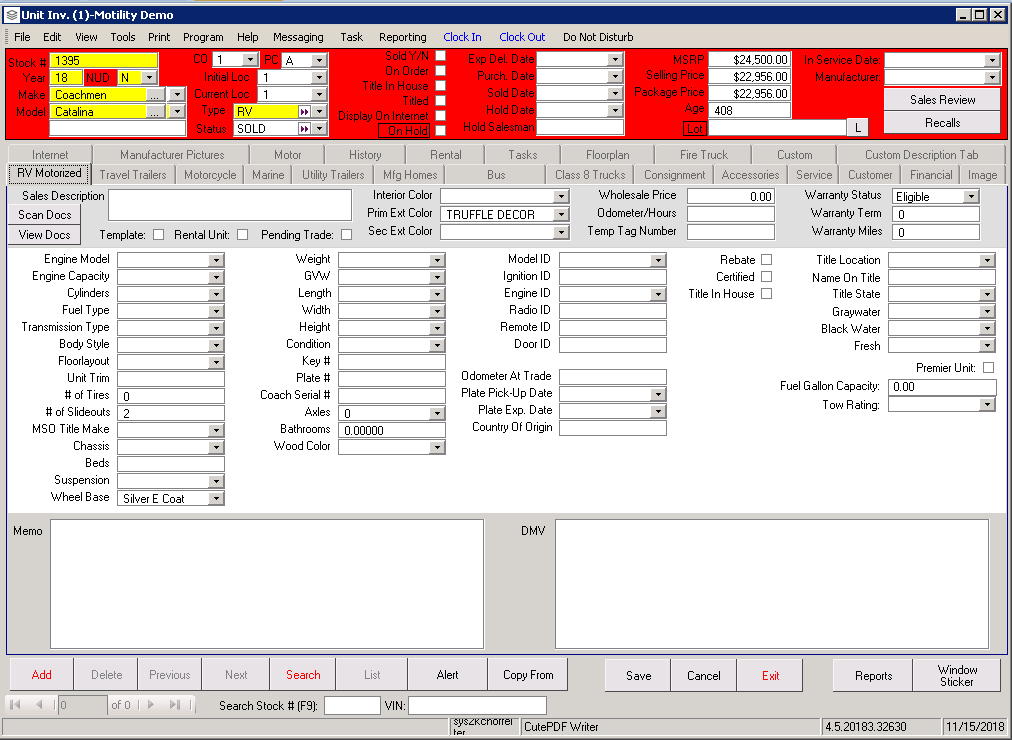 Multi Unit Copy
Click File > Multi Unit Copy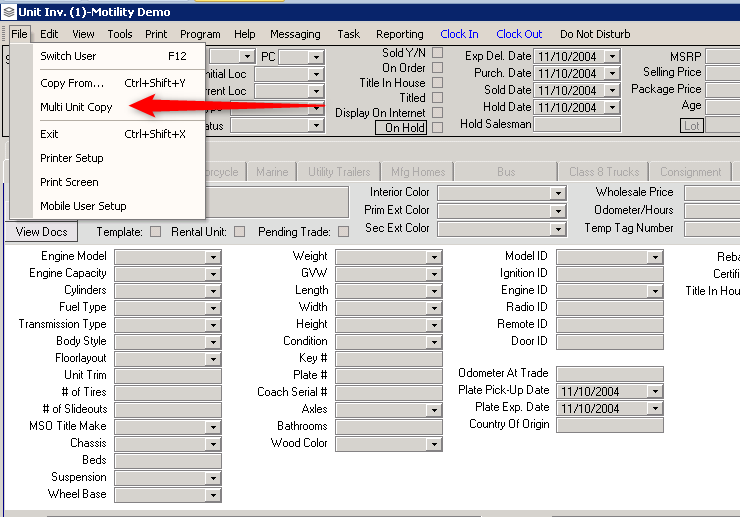 Type the old stock number you wish to copy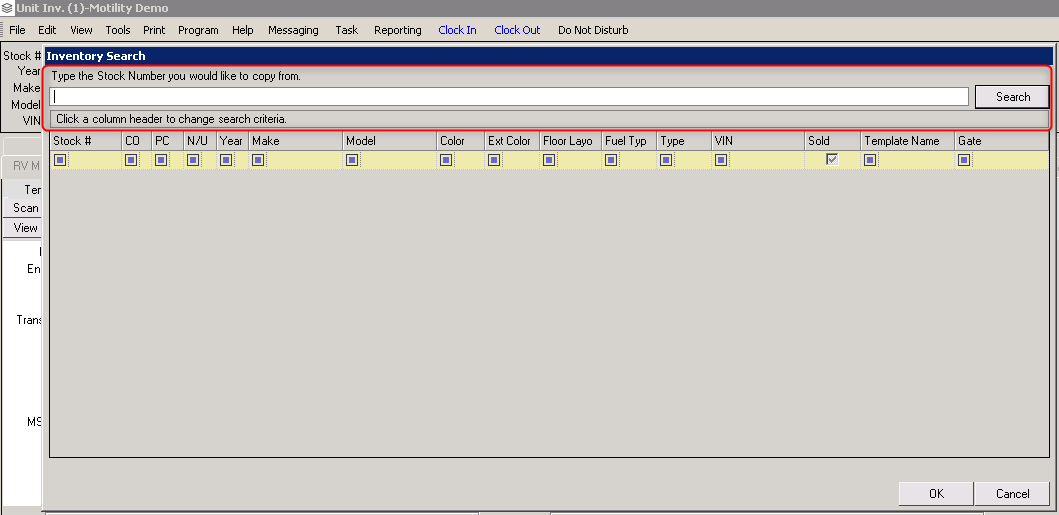 Type each Vin number and colors you wish to create. Next, enter each stock number or click "Auto Assign Stock Number" for the system to auto-fill the numbers.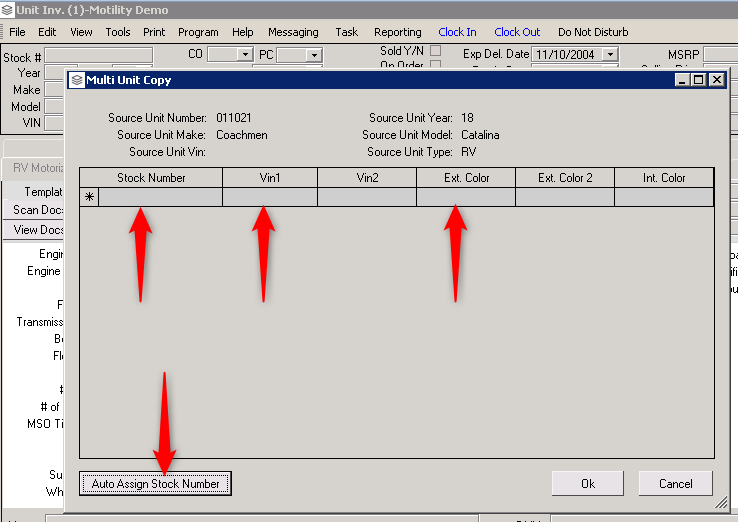 When you click OK, the entire list of stock numbers will be created as copies of the old unit you selected.
Display Units On the Internet
Click Edit > Modify > Display [All, Used, New, No] Units On Internet.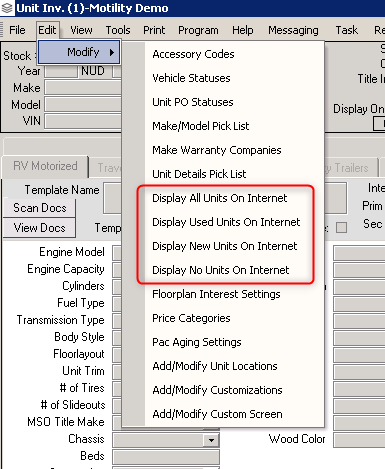 Depending on which option you select, it will mark Used, New, All, or No units as Display On Internet. This controls the Display On Internet checkbox that allows inventory to feed to your website automatically.

Settings
Most of these settings were configured prior to Go-Live, but you may need to go in and make changes from time to time.
Unit Details Pick List
These lists contain the first organizational grouping for your units: Veh Type (Unit Type):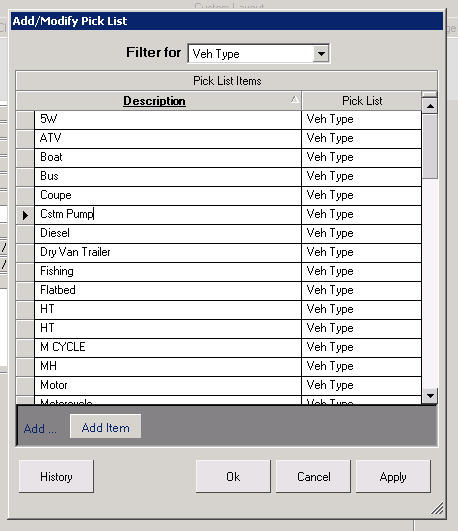 There are also Pick lists for most other fields on the Unit Tabs.
Make/Model Pick List
This List of Makes and Models also allows for GL accounts to be assigned automatically: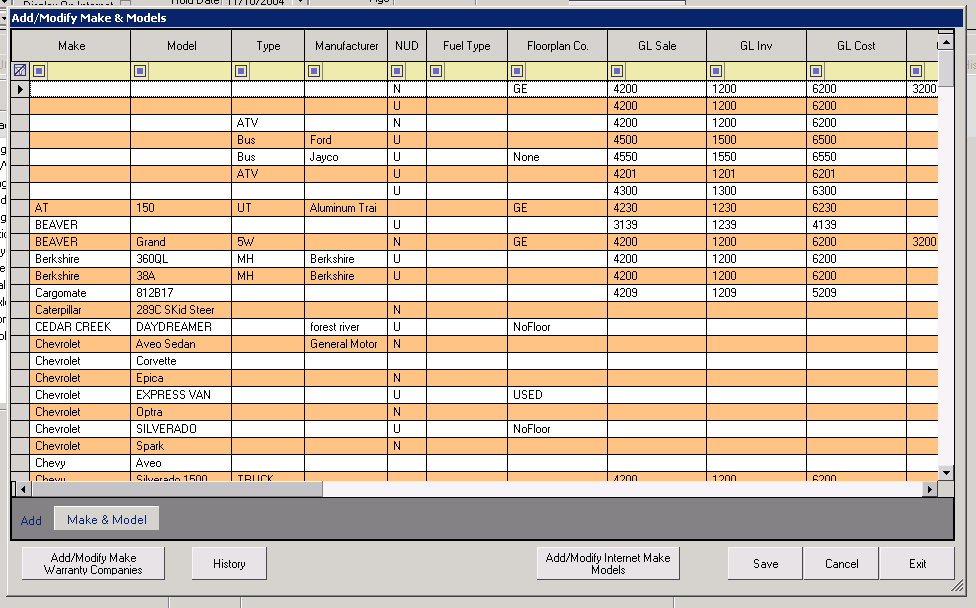 Floorplan Interest Settings
These interest rates are used on the Floorplan Tab to estimate floorplan interest.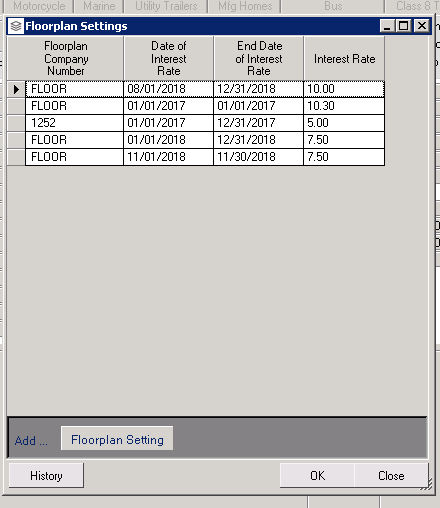 Customizations
Our built-in unit tabs have fields for every purpose. But customizations allow you to define custom fields for any other purpose we have not thought of.