Deal Desking serves as the vehicle quoting/desking system with combined F&I capabilities such as menu selling, finance reserve calculations, and bank contract printing. The Deal Desking module is fully-integrated with the CRM, Unit Inventory, Parts & Service, and Accounting.
---
Main Screen (Side Bar)
Entity search – Searches the CRM for customers and displays customer contact info.
Start Quote – Start a new quote and import customer information from the CRM.
Start Deal – Start a new deal by importing customer information from the CRM.
Deal Search – Search for existing quotes/deals using customer and/or vehicle information.
Calendar – Opens your personal CRM calendar; you can add/modify appointments.
Rotation – Allows you to select a rotation group from which to assign a new lead to a salesperson.
---
Main Screen
Toggle between quotes and open deals, done deals, and canceled deals.
Sort columns to re-order the deal list.
Filter columns to drill-down to a specific quote/deal.
Click the "Open" button to re-open a quote/deal.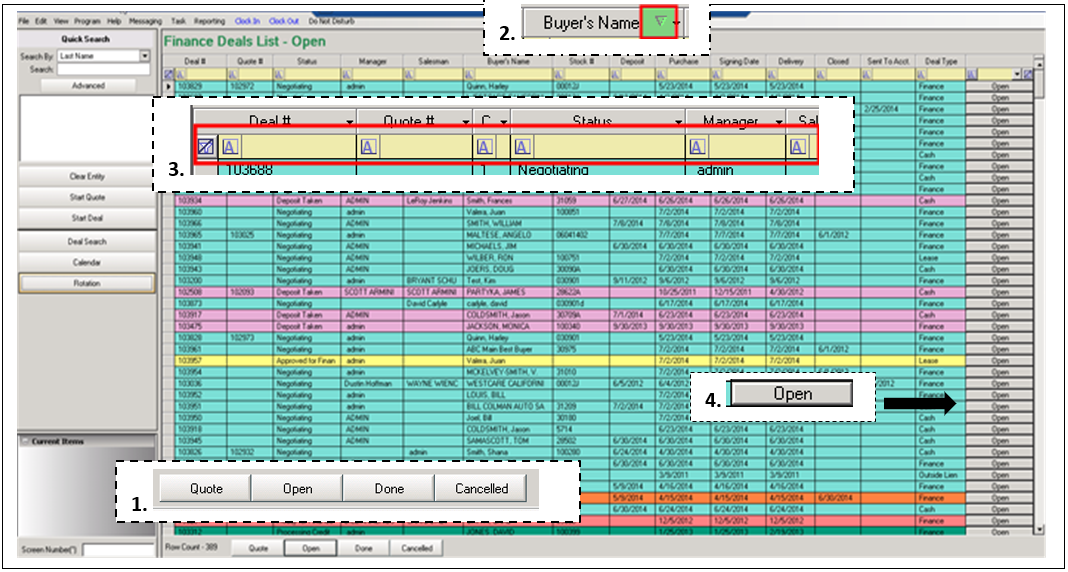 ---
Deal Header
Recall Selector – quickly toggle to other quotes/deals
Deal Type – choose deal structure such as finance, cash, outside lien, etc.
Status – Track status of deal in management dashboard and reports
Deal #/Quote # – system generates record numbers for tracking
Buyer, Vehicle and Trade information display
Quickly start a new deal using a customer's prospect number
Finance Source – bank or credit union that will be funding the deal
Delivery Date – Date that the unit will delivery to the customer
Purchase Date – Date that the customer and dealership agree to a purchase
Signing Date – Date the customer signs contracts

For more information on the deal screen, please visit the Deal Screen article.